Lancashire pays tribute to the Queen
It is with the deepest sadness and respect that Lancashire's leaders remember Her Majesty, Queen Elizabeth II, our Queen and The Duke of Lancaster.
Martin Ainscough DL, High Sheriff of Lancashire, said:
"This is a time of great national sorrow and reflection. It is the close of the second Elizabethan era.
"Her Majesty Queen Elizabeth was one of the most respected of dignitaries in the world.
"She will be recognised in history as a great leader and Monarch of the British Isles and the Commonwealth. We were fortunate that in Lancashire we could also call her our Duke. Her Majesty has had a very special place in the hearts and lives of so many people here. Her passing will be even more deeply mourned locally because of her long devotion to, and interest in, the North West of England.
"As High Sheriff of Lancashire, I was appointed by Her Majesty through her role as the Duke of Lancaster, and it's been a great honour to serve her.
"We now look forward to welcoming the new King and there will shortly be a proclamation in Lancashire to mark the beginning of his reign."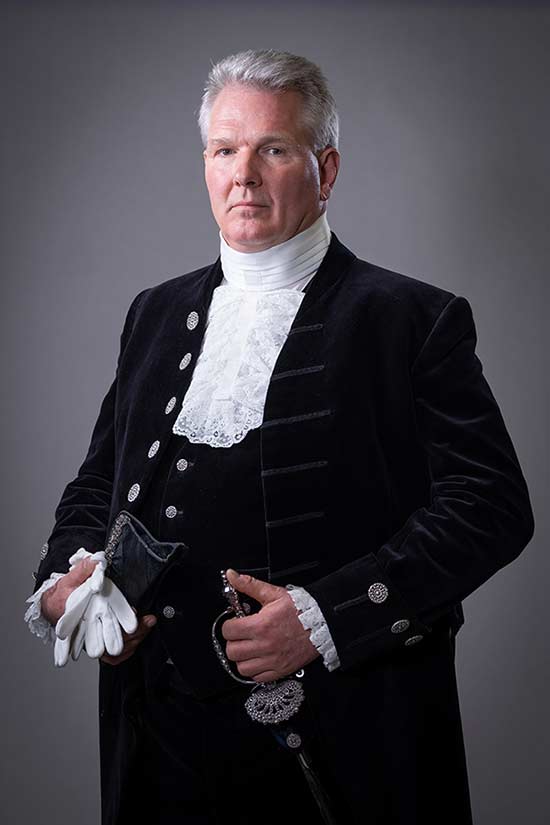 Books of condolence and floral tributes
Proclamation of the new King
National and local proclamations have taken place to mark the accession of the new King:
The national proclamation for the new king took place at St James's Palace on Saturday 10 September 2022
The local proclamation took place at the Harris Museum on Preston Flag Market on Sunday 11 September 2022
Other local proclamations by Mayors in boroughs have taken place across Lancashire
The local proclamation in Preston
See a collection of photographs from the historic Proclamation of the Accession of His Majesty King Charles III read by the High Sheriff of Lancashire, Martin Ainscough DL.  
Duke of Lancaster factfile
Her Majesty Queen Elizabeth II had a very special connection to our county as the Duke of Lancaster
This ancient title, which has been held by the monarch for hundreds of years, is steeped in history and will be passed on to the new King following the proclamation
The Duke of Lancaster is the owner of the estates of the Duchy of Lancaster
The duchy is a separate organisation that currently generates income for the monarch
The loyal toast to the crown was often announced as being to 'The Queen, Duke of Lancaster' at formal dinners across our county and in Lancashire regiments of the armed forces
Historically, up until as late as the second half of the twentieth century, it was fairly common to hear our national anthem sung as 'God save our gracious Queen/King, long live our noble Duke' throughout Lancashire
For more information, visit www.royal.uk  
Book of condolence
A Life of service to your people, to the very end.
John Roberts
25/09/2022
Thank you for your decades of selfless service, you have been a true inspiration and you will be very sadly missed. RIP Your Majesty
Jeanette Goldsmith
20/09/2022
Her Majesty, Queen Elizabeth II was an inspiration and an amazing role model of a female leader for me and other women. She has been part of my life forever and it is hard to imagine England without her. She will be missed. My thoughts and prayers are with Her Majesty's family as they come to terms with their loss.
Kerry L. O. Harrison
20/09/2022
May you rest in peace Your Majesty. Thank you for your lifetime of service to the country and the Commonwealth. You are an example for us all to follow. God bless you.
Andrea Mills
20/09/2022
Our Queen was a truly remarkable and inspirational woman. I am proud to have lived all my life through her reign.
Karen Hawden
20/09/2022
We are so so sorry at the passing of her Majesty the Queen. She has been such an inspiration to us all in her dedication and commitment to her service to the Nation and countries around the world. Her personal faith in Jesus Christ made her the person that she was. May you rest in peace and be with your Lord!
Tim Grose
20/09/2022
Sleep tight your Majesty may you rest in peace.
20/09/2022
Thank you for your years of service Ma'am, May you rest in peace x
20/09/2022
It is difficult to think of a more perfect example of an apolitical constitutional head of state in a modern democracy. Although I am not a monarchist, I am proud to be an Elizabethan. She will be missed, but the Queen has left a legacy of how any wise monarch should reign in a democratic UK, and I think that legacy will remain for many decades or centuries to come.
Nick Cleeve
20/09/2022
Rest in peace your Majesty Queen Elizabeth II. Thanks for everything; You will remain immortalised in the memory of history.
Ali Omar
20/09/2022
Thank you Your Majesty for all your years of devoted dedication to us all. I don't think we all appreciated how much you meant to us but your passing has left ahuge void. RIP with Prince Philip.
20/09/2022
Thank you for your life of service ma'am. May you rest in peace.
Amy Campbell
20/09/2022